RIBBON OF HOPE FOUNDATION
The Ribbon of Hope Foundation was established in May 2006 to be a source of support to survivors, a place of encouragement to those who are continuing in their fight and a core of strength to families who have lost a loved one. "Breast cancer tops the list of many women's fears," explains Dr. Boyd. "Unfortunately, our fears are well-founded. Current statistics confirm that almost one in every eight women will face the disease in her lifetime. However, we also know that breast cancer is 90% curable when caught early. " As part of an on-going and ever-growing display, panels are accepted continuously.
In addition to creating the ever-growing "Ribbon" display, The Detroit area non-profit organization is establishing a scholarship fund for children whose mothers have lost their battle with breast cancer. While we understand that scholarships won't ease emotional burdens, they can lighten financial ones.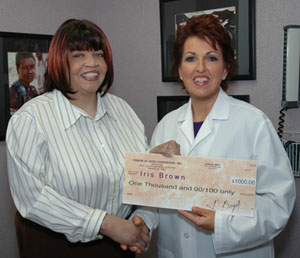 Ribbon of Hope Foundation Awards
First Patient Assistance Grant read more..


The Foundation also provides emergency breast cancer assistance to uninsured and fixed income women in our community. To accomplish our goals, we need your assistance. Please consider sponsoring our literal "Ribbon of Hope," a long series of fabric panels, individually created then sewn together, to honor cancer survivors and those who have fallen to the disease. During its public debut at Detroit's 2006 RACE FOR THE CUREŽ, the Ribbon spanned 164 feet and inspired crowds of participants.